Amy Ray (Left), Emily Saliers (Right)
Hey Indigo fans! Welcome to Indigo Underground, the place to find great information about the Indigo Girls, some stuff other sites don't have! So, I hope you find what you are looking for and have some fun doing it! If you don't find exactly what you want, try e-mailing me. I also have provided numerous links to other Indigo sites that have different information on them as well. If you get a chance, sign my guestbook so that other fans can see what you think of the girls and your experiences with them. Above all, have fun, and always stay closer to fine!

Enjoy,

-Corey Auger- Site administrator, designer, guitar player, and Fan.

Here's what's inside...
Sign My Guestbook
View My Guestbook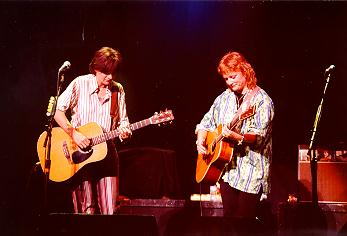 Are you an Ani DiFranco Fan??? If so, visit my Ani DiFranco page and tell me what you think!

prev | next | random | join | list




Indigo fans have stopped by since 6/17/99
This page was last updated on 08/23/99
This page was created using FrontPage98. All information is the property of the site administrator OR other indigo fans on the web. Sale of any information on this site is STRICTLY prohibited by law. Please respect this and the rights of the Indigo Girls. Thank you for understanding.