Classmate Responses
FEB 1999
---
Received FEB 1 - From Deb (79?)
" ........ and didn't "Amityville Horror" come out that year as well? .......... it was a real trip, wasn't it?"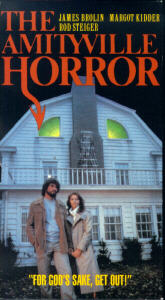 It was a very BAD trip, Deb, bad news...... we took a vote here and all agreed that the movie.....well, it sucked bigtime. I know it hurts, your letter indicated you are somewhat of a "Amityville" lover. The book was great, the house was great, heck even the FLIES were great. But the movie? Look, to keep you coming back we added this photo, see? Theres Margot and James saying "God, wheres that damn awful SMELL coming from?" Ed. Note: Deb, we don't recognize your name. Did you really graduate from Peary in 1979? Be honest now...... Deb? DEB? ( I think we've been "hood-winked".)
NOTE: It is a known fact that other yeargroups are pretty jealous of our 1979 alumni, and these pages. Be on the look-out for fraud.
---
3 FEB, 1999 - Received from Carol (79) - I checked
" .... impressive memories........how about the slang from our year group, like "rents" for parents, "Zaaaaahh" for pizza, "totally beat" for (CENSORED!)."
Carol, we all "totally" agree that you have triggered some memories here. I forgot about "rents" for almost 20 years, yet I must have said it 50 times a day back then. Keep in mind, we of 77-79 created and have a patent on the infamous "Later, Dude!" comment. Yeargroups in the early 80's think they have dibbs on it, but I assure you it came from US!!!! Great note, thanks.
---
8 FEB 1999, Received from Robert (79)
"................. hope you all can settle a fight here....my wife (79) swears the song "Reunited" by Peaches and Herb was the number one hit, I say it was "My Sharona" by the Knack. Square us away please and end this bickering!"
Rob - rule number one: Your wife is ALWAYS right, don't forget that. Questioning her memory here on the World Wide Web is probably not such a good idea. I had to get some help on this from the beautiful Lisa Silver, a fellow Peary 79 Grad that works in the Music marketing industry. Turns out you are both wrong, so go back to rule number one mentioned above. Lisa and I found out that Billboard '79 shows "Do Ya Think I'm Sexxy?" by Rod Stewart as the number one song. Don't feel bad, I lost the bet too. The Grammy for Best Song that year went to the Doobies for "What a Fool Believes", so there might be some hidden meaning there for you, Rob. But, if it'll make you feel better, I don't know anyone that has ever screamed the words to Reunited while driving, while I think we all did the Sharona thing at least once!
Ms. Silver: Thanks for the research help, We owe you yet another candlelight dinner. Promise to have you home by midnight this time!
---
13 FEB 99, Received from Sue (79) Suzie? Susan?

".......didn't Kenny Rogers "The Gambler" come out in 1979?................ How come you didn't mention it? Bye now."

Dear Sue, Suzie, Susan and Suzanne.......... Lisa, please help... HEY ...... it sure did, he won Best Country Singer for that, (Grammy) as well as a few other songs that year! The Gambler, Part 36, is due out this year ( just kidding). Why am I starting to feel like Dick Clark or Casey Kasom? Doesn't anyone remember stuff besides music, movies and books?? Sue, you are correct, we purposely left out Country just to see if anyone noticed, and you caught us with our coveralls down. OK, Since we're on the subject, Donna Summer won a Grammy as best Female Rock (?) vocalist for "Hot Stuff". Don't ask us to sing it, please. The Grammy for Best Childrens Album that year was "The Muppet Movie" soundtrack, which I CAN sing , if absolutely necessary. Sue, are you still there.....?
---
16 FEB 99 - Received from Sandra (79)
"John.......noticed you hate questions about entertainment. ......pay-back's a bitch......what was the favorite movie of 1979? .....sorry, couldn't resist this temptation."
Sandy, how sweet of you to write us.......OKAY, THIS IS IT! No more encyclopedia questions, this is our final answer to questions you all probably know anyways. And Sandy, thanks for saving us time and sending the pic. Drum roll please.................................THE number one movie of 1979 was.......... "Kramer VS. Kramer". It won all the awards, beat my favorite, Belushi in "1941", and swept the Oscars. Sandy, dear Sandy, payback IS a bitch. And we have plans for you. Heeee Heeee Heeee. Again, thanks for the pic (it helped us) and the heartfelt note. Are you a '79 grad? Do you have some ulterior motive? Send your last name next time, please. Why are you hiding?........
---
17 FEB 99 - Received from Steve (79)

"John, its been years.....what a great website.......................remember all our great pom-pom girls, they were the best....................the '79 cheerleaders were the prettiest Peary ever had, no doubt...........pep rallies really got us wound-up!..."

Steve, you really have a thing for cheerleaders, don't you? But you are absolutely right, every cheerleader on that '79 crew was worthy of "goddess" status, and they really, truly loved our school. Everyone - on every committee, on every planning group, on every team or band, truly loved and worked hard for our school. Your letter indicates alot of school pride, although somewhat centered around the beautiful young ladies that represented our yeargroup. Join the club, Steve. The Class of 1979 had the prettiest women to have ever come out of Peary High School. I could name names but it would take up several pages, and no female name would be skipped. EVERY young lady of '79, without exception, was beautiful. The tall ones, the short ones, the skinny, the not-so-skinny, every skin color, every ethnic background - They were ALL exceptional. Steve, thanks for refreshing our memories and setting the record straight. Now, old pal, go and get some professional help with this Pom-Pom thing, okay?
---
21 FEB 99 - Received from Mary (79)
"..........when reviewing our slang for 1979, you all forgot our most famous saying that eventually spread all over the world in real life and in the movies...."Most Excellent". ......I can't believe you skipped it....."
Mary, you got us bad, dude-ette. We all indeed had the most excellent times, didn't we? To make sure our minds weren't warped, we checked the 1979 yearbook and other documents, and sure enough, "most excellent" is mentioned several times, along with written comments like "way cool" and "totally!". Thanks, your letter was "too cool" and had us all "totally Deja-vu-ing, ya know?"
---
26 FEB 99 - Received from Mike (79)
" ........ you asked for it, John. .....I say "Gag me with a Spoon" came from us in '79, my girl says I'm three years off. .....go ahead and give her the bad news, old buddy....."
Mike, you really, really HATE me, don't you? Why else would you do this? Pal, grab a big spoon and start choking, because your lovely lady is correct, or at least more correct than you. Almanac of Slang and Trivia says............ the term became mainstream in 1982 thanks to Frank Zappa and his Daughter "Moon Unit". I know, old pal, I'm a little lost too. I could swear my sister Lynda ('80) said that phrase so much I actually DID gag her with a BIG shiny spoon back in '79. We were a great and historic yeargroup, Mike, but we can't take credit for EVERYTHING! Hang in there, and hope the spoon doesn't hurt too bad.
---