PDLJMPR's Sprites of the WWW
PDLJMPR Web Magazine, February 20, 1999
Amy and Brooks Bush - Our Sprite
About four years ago while helping my father-in-law race his Mini-Cooper at Mid-Ohio I saw a black Sprite racing in the same class. It was a very well done car and in my favorite color.I was hooked right then and there. Within days visions of Sprites were spinning around in my head (somehow I dont think I am alone in this experience) I already had a black 66 Nova super sport, some bikes and a couple of other sports cars, but had never owned a British sports car.
After looking at several Sprites, and deciding to stay with a square body. I found the one we have now. It is a 66 with a 1275 engine and was already restored when we found it. The Sprite has been a great car but seems to not get driven enough. I remember when we brought the car home my wife said, "Well this one is going to be kept extra nice!" I was puzzled as I try to keep everything nice, then I realized she really liked this car. Many of you know how important that is in Sprite ownership.
Whenever we drive it heads always turn and there are many comments and compliments and of course someone always had one in school or when they were younger. We love it! Now we need another one for the track.
Amy and Brooks Bush - Columbus Ohio
If you like Amy and Brooks' Sprite send them an email. ed.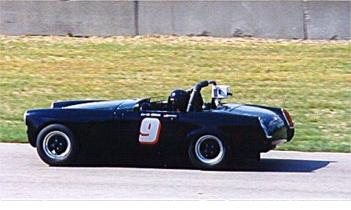 The Sprite that "hooked" Brooks