SWEEDISH METAL INQUISITION INTERVIEW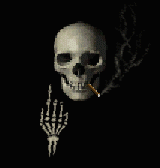 1. Could you give us a brief presentation and the history of the band?
MERLIN was formed in 1992 by me and my husband Alex Ioffe. After a long search we met Nick Byckoff- the drummer we dreamed of. Our first demo 'Welcome to hell' was played in death- thrash style but three months later we released the second death- grind one. However, our third demo 'Prisoner of death' (1994) appeared the most well known. It was reviewed in several Russian authoritative fan zines and got a positive appreciation. Since our first live in 1992 Merlin have been known as the most aggressive and brutal death metal band in Russia and after our 'Deathkoteque' had been released we were called the leaders of Russian death metal. A lot of our songs were included in compilations such as 'Thrash your mother', 'Deathtalker', 'Russian metal ballads' etc. and we take part in all considerable festivals around Moscow and some other Russian towns.
2. Which bands would you compare the band with?
Hard to say. I can tell you what I like. First of all it is DEATH. I'm crazy about their music and Schuldiner's vocal. And the two other bands I love are MORBID ANGEL and BRUTALITY. But I can't compare our music with theirs. I hope it is as musical as DEATH's, as technical as MORBID ANGEL's and as dark as BRUTALITY's.
3. Go in more to the music and the lyrics what is the inspiration for the band?
As for the music it are these three bands and I think there is a great influence of such monsters as BLACK SABBATH and DEEP PURPLE and classical music. As for the lyrics my favorite them are maniacs- a kind of 'Tales from the crypt.
4. Talk about the support to the band from media so far in terms of reviews etc. has it been good or bad?
Well, there are lots of reviews. I haven't read them all but ones I read were positive.
5. Talk about the liveshows you have done so far, what has been the best and the worst moment on stage any great memories?
We play all considerable shows in Moscow and sometimes we play in other Russian towns. The worst memory is a low quality of sound on stage which happens almost always. It is very hard to play such a complex music without hearing each other. And the best memory is the good sound. Last time it was on Helloween party.
6. Is any members of the band involved in other projects/bands ?
Nick sometimes plays for some industrial band.
7. What are your plans for the coming months and year? Any tour plans?
We are going to release a new album. It must be still more fast and brutal then DEATHKOTEQUE.