GB'zine INTERVIEW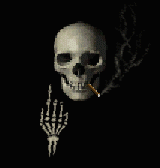 1) Ok, could you give us a brief background on Merlin like when did the band started, any line-up changes, etc...??? Why have you decided to form a band?
Well, Merlin was formed in 1992 by myself and Alex. We changed several drummers before we met Nick. And it was very difficult to find a normal bassist so after a long searching I decided to do it myself. Before Merlin we both played in some thrash band and it was very boring. So we decided to form our own band instead of playing somebody else's songs.
2) You name your band after a famous sorcerer but it seems like your band name doesn't fit for such brutal music as yours! So, is there any rational explanation to it?
We were supposed to play progressive metal since we had had a lot of such songs just before forming the band. Well, we changed the style a few months later and began to play death- thrash but we retained the name.
3) There aren't that many bands in Russia (well, we aren't that sure) but has it something to do with the financial situation of your country as it might be hard and expensive for bands to buy good equipments,etc...?
I don't think this is because of expensive equipment. You can buy a pretty good Korean guitar for $400. The problem is that you can't make any money on playing and you have to get another job. But there is no posers in Russian metal scene... all of them give up music very soon.
4) Is it harder for your band to get recognition because you're coming from Russia? Beside the financial aspect, what is the biggest problems you have to face in your country?
Yes, I think so. We are supposed to be leaders of Russian death metal and we seem to be known in Ukrain and Byelorussia but nobody heard about us abroad.
5) Is it easier for a metal band to have gig since communist is out of your land or are you still encounter the same difficulties?
There was a great prosperity of the underground culture at the times of Perestroika(1996-1991). A lot of rather mediocre bands was a success because people were glad to hear whatever they were suggested. These days people surfeited with all this, they want to hear professional sounded music opposite they won't come even free.
6) Your music is very fast with very few mid tempo sections so I presume you like it fast but is always playing fast music limited you when it come to create new songs? And by the way, how do you create your songs?
Well, we three like playing fast and brutal and we like complex structures, certainly I have to take into account this fact when create songs. But it seems to me I'm just not able to write slow or simple music and then play it.. I would die of boredom. As for your last question usually I create a good coda and only then write the song from the end to the beginning...it looks like a sort of calculation.
7) Your music because of its fastness is very intense but do you want with your music to create more than just intensity? In other words, is your music only based on intensity?
I think this music is inside of myself. I mean that it reflects my personality. I'm not so brutal in my usual life, I seem to be rather calm and quiet but I got a lot of hidden aggression and it is in my music.
8) Something I'd like to know is ; is Nickolay get any help from a drum machine on the demo because I've never heard such fast and constant blast?
He played himself and then improved. I want to say that such high speeds are normal for us... we play still faster on the scene and our new songs are still more brutal and fast then those you heard.
9) You told me that Merlin was on a couple of comp. tape, how did you ended up on them and was it profitable for the band?
It wasn't profitable... we haven't got a dollar. Such compilations are profitable only for those who make them. But we are often suggested to be included. So were can let ourselves to choose.
10) We know that Russia had a great tradition of classical composer like Glazounov, Gliere, Tchaikovsky, etc... but has it a certain influence on you musical or cultural? Are you listening to them?
Well, I love classical music very much, especially Russian, especially modern such as Shostachovitch and Snitcke. And I like very much German composers such as Betchoven and Bruckner. Besides music is our family tradition. My mother is a professional pianist and I used to play the piano very long ago. And such a great composer as Stravinsky was my grand grandfather. I think all this had a great influence on me and I can say that my music is based on classical traditions.
11) Unfortunately this is the end of the interview, so before we go our separate ways, have you anything to add?
I should add that all of us had got a great experience of playing in various styles from hard rock to thrash before Merlin. And it had a certain influence on our music too.
STEVE POUPART