FUNERAL/BLOODSIFETY'zine INTERVIEW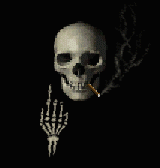 1.- PLEASE START WITH A FULL BIOGRAPHY OF THE GROUP, DON´T FORGET THE INCLUDE WHAT´S THE ACTUAL LINE UP.
Well, MERLIN was formed in 1992 by myself and one of the best Russian guitarist Alex Ioffe. After a long search we met Nick Byckoff- the drummer we dreamed of. Our first demo 'Welcome to hell' was played in death- thrash style but three months later we released the second death- grind one. However, our third demo 'Prisoner of death' (1994) appeared the most welknown. It was reviewed in several Russian authoritative fan 'zines and got a positive appreciation. Since our first live in 1992 Merlin have been known as the most aggressive and brutal death metal band in Russia and after our 'Deathkoteque' had been released we were called leaders of Russian death metal. A lot of our songs were included in compilations such as 'Thrash your mother', 'Deathtalker', 'Russian metal ballads' etc. and we take part in all considerable festivals around Moscow and some other Russian towns.
2.- DEFIN YOUR MUSIC AND MENTION SOME INFLUENCES.
I think we play in Brutal death style. Influences? There are a lot of them. I must say that all of us had got a great experience of playing in various styles from hard rock to thrash metal before Merlin.
I am a fan of Black Sabbath and Death and I like classical music very much, especially Shostachovich and Shnitke. My favorite vocalist is Rob Halford from Judas Priest and I am crazy about John Tardy from Obituary. And my favorite bassist is Joey DeMaio from Manowar.
Alex is a fan of Deep Purple and personally Ritchie Blackmore and Nick loves Morbid Angel and Suffocation.
3.- TALK US A LITTLE ABOUT THE SCENE IN YOUR COUNTRY.
Not much to say. There is no any death metal busyness in Russia - underground only. And a very little of bands play in such a heavy style. Most of them play Black metal and Doom since these styles are very popular around here.
4.- WATCHING YOUR LYRICS IT´S OVBIOUS THAT THEY´RE VERY HATRED, WHY? WHAT ARE YOU TRYING TO EXPRESS WITH THIS KIND OF LYRICS? WHEN DO YOU USE TO WRITE YOUR LYRICS (DO YOU NEED A PARTICULAR EMOTIONAL STATE...)
There are the two opposites- good and evil. Well, there are a lot of styles assuming positive lyrics. Death metal is a very dark and aggressive kind of music itself so if you set to play in this style you have to hold on to its traditions. I don't know any death metal band singing about love, happiness or something nice and glad. That would be strange at least. I'm not a kind of maniac and I'm not so ruthless and bloodthirsty myself as you could think seeing my lyrics but these themes are rather interesting for myself. Most of people like detective novels and thrillers, so do I, so do my fans. The more blood and corpses- the more interesting. And it is very interesting for me the psychology of evil, what is the motivation, what is the reason etc. Yet I think that the only way to do away with evil is speaking of it.
I don't need a particular emotional state when write lyrics. All I need is watching TV or reading a newspaper. There are a lot of themes in the real life. The only exception was 'Leave me alone' which was written just before the President elections and dedicated to communists. These were a real feelings of mine.
5.- HOW WAS THE PROGRESSION OF YOUR STYLE DURING THE YEARS? WHAT ARE YOUR OBJETIVES IN THE FUTURE?
We began with death-grind. Then techno-death. Now we've been playing brutal death as you know. We are not going to change the style yet. All we are going to do is playing still more fast and brutal.
6.- WHY DO YOU CHOOSE THE WAYS OF BRUTAL DEATH (PROBABLY THE MOST VIOLENT KIND OF MUSIC IN EARTH)? DO YOU THINK THAT YOUR MUSIC IS A REFLECTION OF YOUR PERSONALITY?
I've always liked heavy music. I've never used to hear any kind of pops, disco, new wave, etc. This music is not mine. I grew up listening Black Sabbath and Deep Purple. Then Judas Priest and Manowar. And Slayer. I was crazy about them. All that can be done in these styles is already done. You can't do something new and cool playing this music, you can only repeat these monsters. I think death metal is the only kind of heavy music without cliches… a sort of avant-garde. I can do all I like to and nobody is going to say that I'm doing that a wrong way… there just isn't a right way yet. Why brutal death? I like the way it sounds- fast and heavy. And our drummer likes these heaviest rhythms. And yes, this is a reflection of my personality. I think it's no point in playing some music you don't like. It must be inside of you, opposite you'd better look for some more profitable busyness then brutal death metal.
7.- WHAT MEANS THE COVER ART OF YOUR LAST DEMO "DEATHKOTEQUE"? WHO HAS MADE THE COVER ART? AND WHY DO YOU CHOOSE THE NAME "DEATHKOTEQUE"?
First of all about the tittle: they got a diskoteque and real deathheads got a DEATHKOTEQUE where they can dance and shake their hair and so on. That was my brother Dmitry who has made the cover art. This is what he said: 'Some stupid drug addict girls being about to rest went to acid diskoteque. But they had entangled the address and got to a death metal show by mistake. Since they couldn't think out anything they began to dance instead of leaving and that was what happened to them when the heaviest brutal sound had corroded their bodies and devoured them from the inside.'
8.- PLEASE TALK US ABOUT THE TEN SONGS INCLUDED IN YOUR LAST DEMO, WHAT ARE THE LYRICS ABOUT, WHAT HAVE THEM IN PARTYCULAR ETC...
1. TRYUMPH OF DEATH. There was a picture by a medieval artist Breggel. This is just an impression.
2. HOLDER OF THE WAR. You know there was a war in Chechnia. This song was dedicated to it.
3. DON'T TRY. The song about chemical weapons.
4. I'M GLAD. That is the result of superfluous will to power.
5. I GOTTA FALL. An alcoholic's confession.
6. THAT'S MY TIME. Dedicated to international terrorism.
7. BLACK REVENGE. Those who take their revenge are to lose their souls.
8. DIE. The song was written in 1991 when communists had lost.
9. WAITING FOR DEATH. There was a maniac who wanted to find out what the death is and what is there in the another world .
10. LEAVE ME ALONE. The lyrics was dedicated to communists and the music to Tony Iommy.
9.- WHAT ABOUT THE PRODUCTION OF THIS DEMO? WHO PRODUCED IT, ARE YOU SATISFIED WITH THE FINAL RESULT?
We produced this album ourselves. Well, we are not utterly satisfied but we are glad enough. I think there is no a limit to perfection.
I want our next album to be still more brutal and aggressive and it must be still more fast and hard.
10.- TALKING ABOUT THE TECHNIC ASPECT, YOUR GUITAR SOUND DON´T SOUND SO BRUTAL AS IS USUAL IN THE GENRE. THE SOUND IS VERY CLEAR BUT DON´T VERY LOW TUNED. WHAT KIND OF EQUIPMENT DO YOU USE, HOW DO YOU TUNE THE GUITARS, ETC...?
Unfortunately we couldn't make the recording at some expensive studio since spent our own money. So we had to use what they'd suggested. Besides I think there isn't any Scott Burns in Russia. As for Alex's equipment it was BCRich guitar and DigitechRP-10. And I got Ibanez Bass.
11.- THE DRUMMING IS REALLY BRUTAL AND FAST, WHAT CAN YOU SAY US ABOUT THE BACKGROUND OF THE DRUMMER? PROBABLY IS THE MOST BRUTAL DEATH COMPONENT OF THE BAND.
Yes, I think Nick is really the most brutal component of the band. My idea was to unite such a melodious guitars and brutal sounded drums. I like contrasts in music. I wanted to make a sort of classical avant-garde Death metal sounded. I mean that if I were a classical composer I would write just the similar music for classic instruments.
12.- FEMALE VOICES IN BRUTAL DEATH ISN´T VERY USUAL (I JUST REMEMBER A NORTH AMERICAN GROUP CALLED 13). WHAT DO YOU THINK ABOUT THAT? DO YOU THINK THERE IS A SPECIAL REASON?
Yes, I think so. There is a very little of girls who listen to such a heavy music. And very little of them can sing at all. And very little of those who can sing have got low voices necessary for this style.
13.- PROBABLY THE "GOD" OF SINGERS/BASS PLAYERS AT DEATH METAL IS DAVID VINCENT. WHAT DO YOU THINK ABOUT HIM, ABOUT HIS LEAVING OF THE GLORIOUS MORBID ANGEL?
I think it is very sorrowful event for all their fans. I like Morbid Angel very much and I'm not sure if they can find a worthy substitute to David Vincent. He was really a good singer and a brilliant bassist.
14.- YOUR SONGS ARE ALL REALLY COMPLEX, WHAT DO YOU THINK ABOUT THE GROUPS IN DEATH METAL THAT USES SIMPLES STRUCTURES LIKE SIX FEET UNDER, ETC...?
Well, I don't like that simple structures you meant. I think it is good for Rock'n'roll. Death metal must be complex … opposite it is not Death metal.
LORD HADES