Hi! I'm Derek. This is my page. Can you TELL I like skateboarding? My mom made this background for me... that's ME in the swirls -- please don't take it. Cuz it's mine. :)
Anyway... I'm 13 years old and going into High School in September. School is okay... but I have other things I enjoy more! Skating is one of them. Here's some pictures of me doin' my stuff!

These were taken at a park over in Waldorf - they're probably the most recent ones I've got.


Me doin' a little 2 set.
My lousy photographer...
(mom)
just missed getting
me in the AIR!



A boardslide.
I almost always land then now.


I don't really skate bowls much,
but here I was just messin'
around a little bit.

And these are some older shots of me and my friends at our local park.

This is just me. It's actually 3 different rides --
my mom just likes to do weird stuff with pictures sometimes.
This is my friend Alex.


And this is ME... nearly doin
a boardslide. (I can DO it -
but you know mom's ... They
always MISS the good shots!)

One afternoon some of the BIG guys were doin' jumps off the side of one of the ramps. It looked like FUN!
| | | |
| --- | --- | --- |
| This is JD's jump | | This is Mike's jump |
And heeeeeeere's MINE!


Ahhhhh.... It's a midget....
but I LANDED mine!


Finally we got our halfpipe installed! This is me doin' some stuff on it.

There is an unwritten RULE that skateboarders don't like BLADERS... so don't tell anybody that this is my buddy, Scott! He's actually my BEST friend -- but I don't like him! Cuz he's a blader!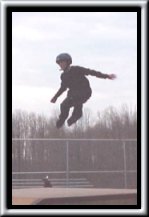 Blading is obviously a lot easier than skateboarding!
Scott is actually no longer with us. He died on March 23,2003, from Ewings Sarcoma, a form of bone cancer. I made a memorial page for him. You can visit it here. Scott's Memorial Scott will always live on in my heart.

Enough of this! When I'm not skating I also enjoy chatting on AIM, and building my own webpages. Pages made by ME! I bowl on a Saturday Youth League and would love to spend my life at the bowling alley these days! I also enjoy playing video games sometimes. We got PS2 for Christmas, and some new games with that, so I'm back into that.
I have other pages on my site ... my mom made most of them for me before I learned to make my own... I made my bowling page myself! (And the graphics on it!) Yea... I'm learning to use PSP too! It's fun - but confusing! Anyway... if you'd like to see them, just click one of the wheels or skateboards down there... they all take you someplace!