Chalky, Dufus & Shirt…
…Invasion VI!
Less than nine months after the last one, Seventh Galaxy were having another Invasion. On the final guest list were new series guests - Camille Coduri, Simon Day (Steward from "The End of the World"), Barnaby Edwards & Nicholas Pegg (Daleks), Alan Ruscoe (Slitheen/Auton/Tree/Droids), Kev McCurdy (fight arranger – "The Christmas Invasion"; and classic "Doctor Who" guests – Sarah Sutton, Richard Briers, Leslie Grantham, Waris Hussein, and Derren Nesbitt. The location was to be Barking Abbey School, the venue for Invasion V.
<![if !supportEmptyParas]> <![endif]>
Such was the draw of these guests that Dufus made a welcome return to "Doctor Who" signings. So it was that Shirt had his regular lodger back. After much discussion, it was agreed that Dufus would drive. Leaving only a few minutes late, but making the schoolboy error of stopping for petrol and food, found themselves making a proper start at the time that they had told Chalky that they would be picking him up. On the way, Dufus attempted to impress Shirt with his new selection of CDs that he believed made him look cool, ie. the Kaiser Chiefs and the new Madonna album. However, the effect was ruined by Dufus' rubbish CD player, which took a long time to accept any disc.
<![if !supportEmptyParas]> <![endif]>
Finally they arrived at Chalky's address, where they picked him up, and with Chalky navigating they began their journey to Barking. Having been to the school less than a year before, there was no risk of their getting lost, was there ? Going over a bump, Dufus' Kaiser Chiefs album went back to the beginning, playing again the only three tracks known by Dufus. As they went through Streatham, Dufus noticed, seemingly for the first time, the large carved horses rearing out of "Caesars Nightclub".
<![if !supportEmptyParas]> <![endif]>
Having found the Rotherhithe Tunnel, all seemed to be going well. However, on reaching Barking, Chalky's sense of direction deserted him, as the car proceeded to circle Barking Town Centre several times, and Chalky attempted to direct Dufus the wrong way up a one-way street. Shirt attempted to help, but both ignored him. Finally they found the right road, and were soon turning into the school car park. The doors had opened nearly an hour before, so there was no queue, as the three entered the school through the main entrance.
<![if !supportEmptyParas]> <![endif]>
First up, they visited the Merchandise room, all spending more money than they could afford, with posters, CDs, badges and even Dalek socks being purchased. Shirt was initially tempted by a "Moxx of Balhoon" action figure, until he noticed the £19.99 price-tag. Chalky was tempted by "Doctor Who" curtains until he realised that Tigger would say that they didn't go with their décor. Dufus was also interested in a "Doctor Who" beanbag, stating that he doesn't have enough chairs at home. Chalky and Shirt's response was to simply look heavenwards.
<![if !supportEmptyParas]> <![endif]>
They then returned to the talks room, where they took their seats for the first panel – Hartnell director and guest-star, Waris Hussein and Derren Nesbitt. The interviewer was David Darlington, and Waris was going well, until Derren arrived, demonstrating a similar stage presence to Brian Blessed the previous year, particularly when describing doing his own stunts on "Ivanhoe" with William Russell.
<![if !supportEmptyParas]> <![endif]>
<![if !vml]>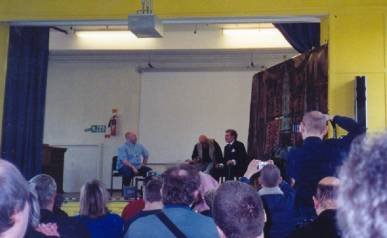 <![endif]>
<![if !supportEmptyParas]> <![endif]>
The next panel was to be Large Endings, and the friends decided to look at the possibility of getting some autographs, (rightly) believing that any exciting revelations would be reported on "Inbox Skaro". Walking to the autograph room, a queue had formed outside. The three joined this queue, and ten minutes later, it began slowly moving.
<![if !supportEmptyParas]> <![endif]>
Standing in the queue, Shirt looked at the autograph-list. All the expected names were there, but there was one addition. Shirt looked at it again, and a third time, fear rising. The list clearly listed the name – "Clive Merrison". Now, Shirt has been trying to persuade Seventh Galaxy to get the Radio Holmes for a signing, but surprise guest that he was, Shirt had no items for him to sign at all (not even "Paradise Towers", as he had already got Richard Briers to sign it). The other two were both concerned and amused by this turn of events, and had visions of an insufferable Shirt for the rest of the day. Shirt was beginning to draw up plans to rush out at lunchtime to buy a "Radio 4 Holmes" cassette that he did not already have signed. However, Chalky asked one of the stewards, who confirmed that it was a mistake. [Speaking to Little Ted later, it seemed that when Richard Briers' wife Ann Davies had been unable to attend, Clive had been contacted as a replacement, his name presumptuously inserted, and not removed when he was unavailable].
<![if !supportEmptyParas]> <![endif]>
After about 15 minutes, during which Chalky took advantage of the opportunity to critique the children's work displayed on the walls, the three entered the school gym where the signings were taking place. Inside were a number of small individual queues for each guest. Shirt joined the shortest, for "CI" fight-arranger, Kev McCurdy, getting the first signature on the "Series 2" poster that he had bought earlier. Chalky and Dufus had joined the queue for Simon Day.
"Hello, I'm Simon", intoned Mr. Day as Chalky reached the front of the queue, offering his hand to be shaken.
Slightly taken aback by this, Chalky offered his items to be signed, then moved to one side to allow Dufus to be welcomed in similar fashion.
Passing Shirt who had now joined Mr. Day's queue, both moved to meet "Marco Polo" director and guest star Waris Hussein and Derren Nesbitt, getting DVD, CD and video covers signed.
Continually playing catch-up, Shirt joined said queues as the other two moved to meet Series 1 monster extraordinaire, Alan Ruscoe.
"I can't get this pen to work on the cover", complained Alan, attempting to inscribe his name on Chalky's 'The Veiled Leopard'.
<![if !supportEmptyParas]> <![endif]>
At this point, there was a small changeover of guests, and 'Dirty Den' himself, Leslie Grantham entered, and sat down at a table.
Shirt having just finished with Mr. Nesbitt, was joined by Dufus, in the queue for Mr Grantham. Books, pantomime programmes, and video covers signed, Shirt moved on to Sarah Sutton, being joined by Chalky (now there's a surprise !)
Having signed his covers – 'I've now got Sarah Sutton on 'The Game' ', thought Shirt – Chalky and Shirt engaged Ms. Sutton in conversation.
"It's a while since you did a Large Endings' !"
"Yes, they only need to ask, and I'll do another"
"But aren't you doing that Christmas one ?", asked Shirt.
There was a long pause in which Shirt realised that he might have put his foot in it, as it seemed Mr. Russell had not yet approached her, despite it being mentioned in a recent MDW.
"Which Christmas one ?", asked Ms. Sutton.
Shirt blathered about probably being mistaken, and beat a hasty retreat over to Alan Ruscoe.
"Not that one again", commented Mr. Ruscoe on being presented with Shirt's 'The Veiled Leopard', "I had great trouble signing another guy's one".
"Yes, that was my friend, Chalky", answered Shirt.
"Well tell him to come back as I've got a better pen", Alan told him, still seemingly having to engrave his name.
<![if !supportEmptyParas]> <![endif]>
Dufus and Chalky had joined a queue for Barnaby "Gold Dalek" Edwards, but Shirt decided to speak to the Large Endings' group sitting at a nearby table. First up was Joseph Lidster, who signed several covers including "Terror Firma" that Shirt had forgotten at the India and Conrad signing just before Christmas   (see CDS...Are Behind You! ). Several other LE regulars' signatures later, and Shirt was joining the queue for Barnaby as the others left it. Not wishing to meet Nicholas Pegg, the other two returned to the talks room. Having got Barnaby in his "Monsters and Villains" book and "Series 1" publicity poster, Shirt made the mistake of joining the queue for Mr. Pegg…….
<![if !supportEmptyParas]> <![endif]>
<![if !supportEmptyParas]> <![endif]>
<![if !vml]>
<![endif]><![if !vml]>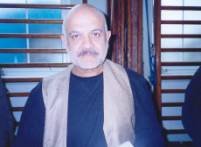 <![endif]><![if !vml]>
<![endif]>
<![if !vml]>
<![endif]><![if !vml]>
<![endif]><![if !vml]>
<![endif]>
Messrs. Day, Hussein, Nesbitt, Ruscoe, Grantham & Edwards.
<![if !supportEmptyParas]> <![endif]>
In the talks room, Richard Briers was in full flow, and the two sat back and listened to his "The Good Life" anecdotes. This completed, they began wondering where Shirt was.
Shirt was still in the Nick Pegg queue which was moving very slowly. Finally, there was only one person in front of him. However, said person placed down about twenty Large Endings' CD covers along with various new series items.
"Two items only", said the steward beside Nick.
"I don't mind", said Nick, signing all covers.
'I do !!', thought Shirt.
Having finally got his items signed, Shirt rejoined the others, where Kev McCurdy had started his panel.
<![if !supportEmptyParas]> <![endif]>
<![if !vml]>
<![endif]>
<![if !supportEmptyParas]> <![endif]>
The interviewer having quickly dried up in terms of questioning, the main event of the talk took place. Kev was joined by a fellow stunt arranger, and with broadswords, the two re-enacted the climactic fight from "The Christmas Invasion" in the school's garden to much applause from those not still queuing for autographs. An announcement had been made prior to Kev's panel that Camille Coduri would be signing in a separate room. It being lunchtime, the three decided to look for the mythical Room 25 where said signing would be taking place. Finding it, and discovering a queue of about ten people, they decided to join the queue, eating their lunch whilst waiting. Camille was due to start signing in just under 90 minutes, and with food consumed, trips to the merchandise room and the costume display (see below), the time flew by.
<![if !supportEmptyParas]> <![endif]>
<![if !vml]>
<![endif]>
<![if !supportEmptyParas]> <![endif]>
At the given time, Ms. Coduri swept past and into the room.
The queue began to move.
"Photos bought here, and one personal item. No photography", said the steward, also forcing the friends to leave their bags outside the room.
Camille proved to be delightful, signing the friends' items with a smile.
A few seconds later, all three were making their way out again.
Dufus and Shirt made their way to the signing room, where after a few minutes, managed to meet Richard Briers.
Returning to the talks room and Chalky, they caught the tail-end of the Leslie Grantham panel, which seemed to be very focused on "Eastenders".
<![if !supportEmptyParas]> <![endif]>
Next up (to Chalky's delight) was the lovely Sarah Sutton. She proved to be more diplomatic about Mr. Waterhouse than Ms. Fielding had the previous year. She also spoke about her unsuccessful attempts to return to acting, and said that she would welcome a cameo in the new series (Are you listening, Mr. T. Davies ?). Dufus and Shirt noticed that Chalky sighed when the panel ended.
"She still looks good", said Chalky.
"You're married !", chorused Dufus & Shirt.
<![if !supportEmptyParas]> <![endif]>
<![if !vml]>
<![endif]>
<![if !supportEmptyParas]> <![endif]>
Having rushed everyone through, the next panel was Ms. Coduri. As with Messrs. Barrowman & Clarke, the previous year, Rose's mother proved to be a convention natural. With cheeky questioning from Gary Russell, the friends learnt more about what Jackie would do if faced with both Mr. Eccleston and Mr. Tennant. She also spoke about how jealous David and Billie were that she had come to the convention, raising the friends' hopes for Invasion VII's possible guest list.
<![if !supportEmptyParas]> <![endif]>
<![if !vml]>
<![endif]>
<![if !supportEmptyParas]> <![endif]>
The final panel of the day was comprised of Series 1 guest-stars: Simon Day, Alan Ruscoe, and the comedy double-act that is Barnaby Edwards and Nick Pegg (whom interviewer David Bickerstaff singularly failed to control). Simon and Alan exchanged anecdotes about make-up, whilst Barnaby and Nick campaigned for the return of the Daleks, despite the described impact on their thighs (too much information !!! ). Alan then described the monster audition process in fascinating detail.
<![if !supportEmptyParas]> <![endif]>
<![if !vml]>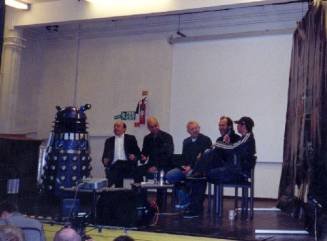 <![endif]>
The day's events concluded, it only remained for the usual line-up comprising only those guests who haven't gone home, the drawing of the raffle (for which the friends had not bought tickets) and the announcing of the date of Invasion VII.
Fighting their way across London, whilst fighting to get Dufus' CD player to accept a disc, they made their way to Chalky and Tigger's for several rounds of Chalky's new favourite game – "Cranium".
<![if !supportEmptyParas]> <![endif]>
<![if !supportEmptyParas]> <![endif]>
<![if !supportEmptyParas]> <![endif]>
<![if !vml]>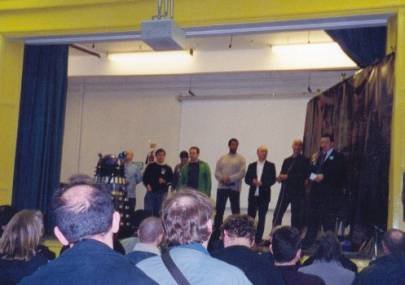 <![endif]>
Left to right: Dalek, David Darlington, Ian Farrington, Joseph Lidster, Gary Russell, Kev McCurdy, Barnaby Edwards, Nicholas Pegg,
 Event MC.
<![if !supportEmptyParas]> <![endif]>
<![if !supportEmptyParas]> <![endif]>
[PL]