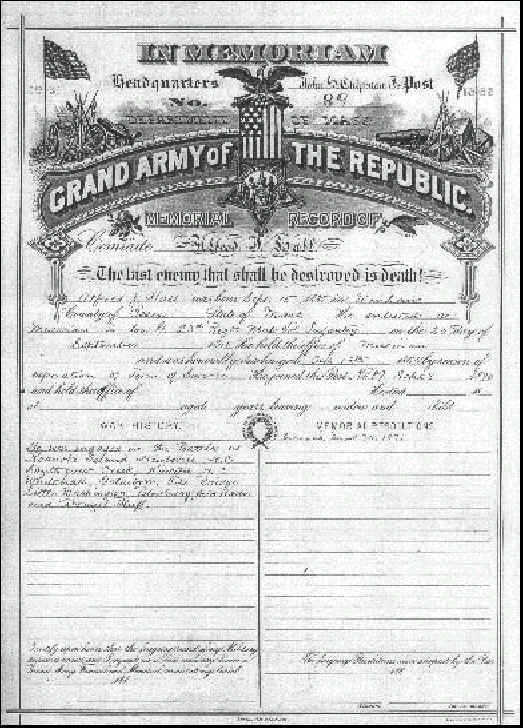 The Civil War Monument and Other Images
People have visited this site.
Questions, comments, Please e-mail us at: beverlyhistoricalsociety@nii.net
This site was created by:
Stephen P. Hall
The Beverly Historical Society and Museum
117 Cabot Street
Beverly, MA 01915
(978) 922-1186
© 1999, 2000, 2001
The Membership Roster
This is the main G.A.R. Post #89 membership index page.
On the member pages the records are displayed as follows:
Member Photo
Member # Surname, First, M.I. Born: [date & location]
Unit: [Co. Reg.] Rank: [at enlistment and muster out if known]
Because of the large number of records and photos on this site I have divided the pages into single, and multiple letter pages.
Click on the LETTER MATCHING THE FIRST LETTER OF THE G.A.R. MEMBERS SURNAME TO GO TO THE CORRECT MEMBERS LIST.
[NOTE: This data was taken from the "Memorial Book" record of each member. For a more a detailed record I would recommend the Mass. Soldiers & Sailors volumes. Once this site is fully set up I may go back and add additional data from other sources, to supplement each members record. You will note that the photos are small and of a very low resolution. I have done this because I have to fit several hundred photos on a web site of finite size. Also this site is designed to provide information for family members of the veterans, civil war "buffs", and other historical researchers. The Beverly Historical Society, owns and controls the use of all of these images. If you want an 8" x 10" print of a photo or a photo copy of a document please e-mail me at beverlyhistoricalsociety@nii.net . Be sure to put the words "PHOTO/DOCUMENT REQUEST" in the subject field. I will find the item and explain what costs are involved.
If you need additional research [historical or genealogical] to be performed by a staff member or volunteer at the society, regarding someone from the greater Beverly area, please enter the words "RESEARCH REQUEST" in the subject field of your e-mail.
For more information see our Research and Other Services page.]
Questions, Comments, e-mail me at: beverlyhistoricalsociety@nii.net