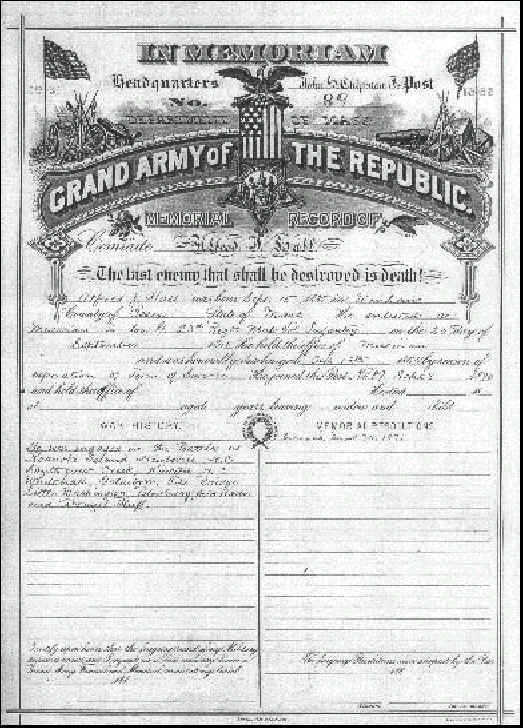 The Civil War Monument and Other Images
People have visited this site.
Questions, comments, Please e-mail us at: beverlyhistoricalsociety@nii.net
This site was created by:
Stephen P. Hall
The Beverly Historical Society and Museum
117 Cabot Street
Beverly, MA 01915
(978) 922-1186
© 1999, 2000, 2001
Capt. John Hale Chipman, Jr.

October 2nd 1838 - June 16th 1866

By Stephen P. Hall

[Note: To aid the modern reader the webmaster has added links to other sites that will provide additional data relating to the people and events mentioned in this article. The underlined text on this page contains links to pages at other web sites. Please use the back button on your browser to return to this page after visiting these sites.]

Capt. John Hale 6 Chipman, Jr., son of John Hale5, [Joseph4, Rev. John3, Samuel2, John1] Chipman, Sr. and Elizabeth (Hill) Chipman, was born October 2nd 1838, in N. Beverly, MA. On February 14th, 1861, John Hale Chipman, Jr., married Martha E. Patch, daughter of Ephraim & Hannah E. (Eaton) Patch. John Hale Chipman, Jr., was a "cordwainer" or shoemaker by trade.

When the first call to arms went out on April 15th 1861, he a groom of only three months, left his young bride, with three hours notice, to join the fight to preserve the union. The 22 year old, first signed up in Boston as a private in the 8th Regiment, of the Massassachusetts Volunteer Infantry, which at the time was a three month enlistment. This group left the state of Massachusetts on April 18th 1861, for Washington, DC, and he served there until he was muster out with the rest of the militia on August 1st 1861. This regiment followed the 6th Regiment to Baltimore, MD, but they were spared the riots, by bypassing the city. During this time John H. Chipman, Jr. was "prostrated by hemorrhage from the lungs", and returned home. It is most likely that he was exposed to someone in the Regiment who had tuberculosis or "consumption," and this was the first sign of that "fatal" disease.

Rapidly recovering, he once more enlisted, in Co. "E", 8th Regiment, on August 11th 1862, this time at the rank of Corporal, and this enlistment was for a 9 month period. This time the 8th was organized at Camp Lander, in Wenham, MA, and moved to Boston on 25 Nov. 1862, and thence on the steamer "Mississippi" to Moorhead City, NC, and then to New Berne, by November 30th. They had garrison duty at New Berne until June of 1863. But Co. "A" and "E" detached as a garrison at Roanoke Island, NC from 4 Dec 1862 to 12 July 1863. They moved on July 12 - 13 to reinforce the Army of the Potomac at Funkstown, MD, and then to Rappahannock on July 16-22, 1863. He, along with the rest of the Regiment were ordered home on July 26th and mustered out, on August 7th 1863. The regiment lost 11 men to disease.

He was not home more than a two months, when he re-enlisted yet a third time, in the newly formed 59th Infantry Regiment. This time he received the rank of 2nd Lieutenant, commissioned on 13 Oct 1863. Four days later his wife presented him with his first and only child, a son, Frank Ellsworth Chipman. The newspapers of the day noted that "Lieutenant Chipman had been busy finding recruits in Beverly, for his regiment". He would stay in Beverly for several months and during this time he was promoted at least once, or perhaps twice, for on December 16th 1863, he was commissioned Captain.
[Photo courtesy of G. M. Oldenbourg]
It was noted in the February 6th 1864 issue of The Beverly Citizen that, "The members of Company "C" 59th Mass. Regt., have presented to their commander, Capt. J. H. Chipman, a fine regulation sword, straps and belt, the whole costing $100." The regiment left for Washington, DC, April 26th and then on to Rappahannock Station, VA. The campaign proceeded from the Rapidan to the James from May 3rd until June 15th, 1864. The regiment was in the battle of the Wilderness, from May 5th-7th, Spottsylvania, May 8th-12th, Ny River, on May 10th, and Spottsylvania Court House, May 12th - 21st, 1864. They then assaulted the North River, May 23rd-26th. They were on the line of the Pamunkey from May 26th-28th, Totopotomoy, May 28th- 31st, and Cold Harbor June 1st-12th, 1864. It was at Totopotomoy Creek, VA, on May 31st 1864, or possibly Cold Harbor, that Capt. John H. Chipman was wounded in the hand. He came home on furlough to recover, and as the medical help was better off the field of battle, this probably saved his life. He was home for about two months when he was called to return.
On August 12th 1864, he rejoined his regiment in the rifle pit at Petersburg. At the age of 26, he was put in command of the entire regiment, because "Col. Gould had lost a leg, Lt. Col. Hodges, being killed, and Major Colburn at home wounded." A few days after his return he was "sent to Weldon Road to intercept the rebel communication with Richmond, and while conducting prisoners to the rear, he fell into a rebel ambush, and was taken prisoner. Stripped of his hat, boots, sword, and haversack he was marched into Richmond and then to Libby prison." While at Libby he was stricken with Typhoid Fever. He was later transferred to Salisbury, NC, and finally to Danville, VA.
On February 23rd 1865, he was released, and returned home. But the diseases of war would not leave him. Simultaneous with his own decline, his wife, developed what was most likely "consumption" from her earlier contact with her husband. They both shared a sick room for the next year, with she predeceasing him on March 8th 1866, only a few months before his own death on June 16th 1866.
The 5 year old orphan Frank E., was sent to live with grandparents for the next ten years, until their deaths in 1876, when he then lived with a guardian.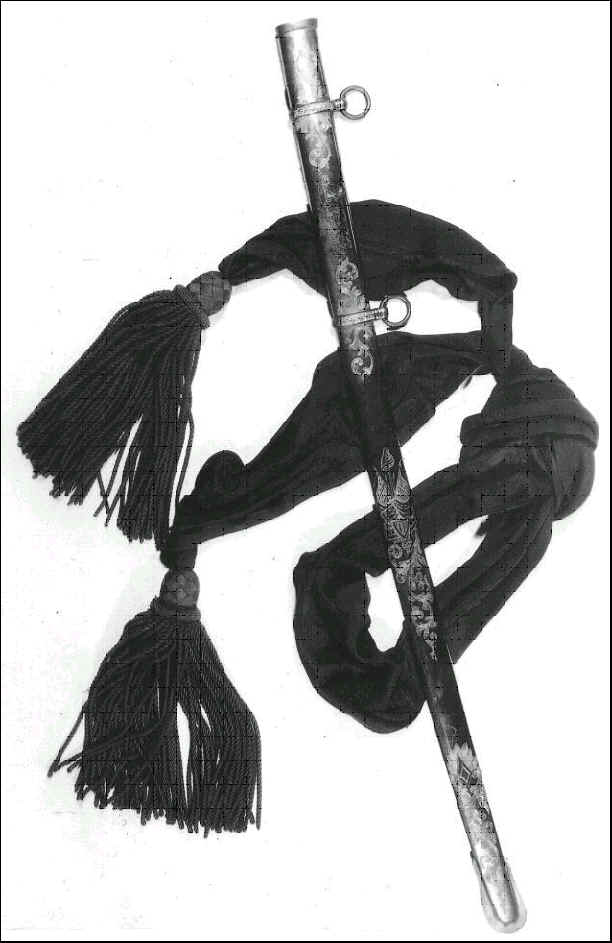 The sword case and sash of the "captured sword", passed through Frank E. Chipman at his death in 1942, to his son John H. Chipman, III, and then to his nephew, John H. Chipman, IV. As late as 1970, it was still in his possession.
On September 1st 1995, John Hale Chipman, IV, died at the age of 46.