Nikolay Timofeev
One of the most impressive pilots in modern aviation is without any doubt

Nikolay Timofeev from Russia, flying his Sukhoi 26M.
"Top ranking pilot Timofeev performs breathtaking world class aerobatics. He flies at low level, combining precision, complexity and excitement in an exceptional display of modern Unlimited aerobatics."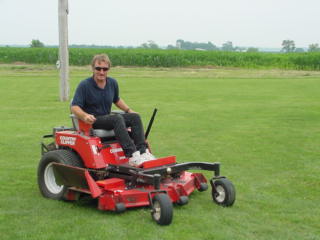 Nick doing his ground work.
First Class
John Klatt is another one of the Midwestern people coming to enjoy training at the Chariton Airport with ICAT. John grew up in Minneapolis, Minnesota. He has a Bachelor of Arts degree in Communications and is a commercial pilot for United Airlines flying 737's. Next time any of you fly the friendly skies you might glance in the front of the plane to see if your pilot is John!
He became interested in aerobatics and purchased a Pitts S1C in 1994 and joined his local International Aerobatic Club Chapter where he "met a ton of great people". John finds aerobatics to be a "great challenge to learn and master." He also finds it to be a great way to "stay sharp" and to just get out and have fun.
His impression of Chariton and the Chariton airport are that it's a "nice small town Iowa Aerodrome with not very many distractions." He thinks it's a great place to focus on quality training.
Second Class (June 23 to June 27, 2000)
Vicki is another midwesterner by birth, having grown up in Springfield, Missouri.
She bought a Christen Eagle because aerobatics "looked like fun so I decided to give it a try". When she bought the plane she had never flown in one and knew nothing about aerobatics.
Vicki has found aerobatics to be "a challenge, from both physical and especially mental aspects." She finds, "an enormous amount of self-satisfaction" in getting things right and having all the pieces fall into place. And she still thinks it's "just a lot of fun".
She found CNC to be a great airport for training "because it has everything one needs for a successful camp, fuel, hangar and a box of the field." She found the community interest to be "just amazing" and hopes it continues.
Norm is originally a mid-westerner (sort of) having grown up in Kalamazoo, Michigan. He currently lives in Atherton, California. He has a Bachelor of Science Degree in Aerospace Engineering from... The University of Notre Dame...(Hawk fans...close your eyes). He received his MBA from the University of Santa Clara in Marketing. He is a retired personal computer industry executive.
Norm's wife is to blame for his addiction to aerobatics. She purchased a 10 hour course as a birthday present for him. Later he built a Christian Eagle bi-plane and began flying competition aerobatics. He won his first contest, The Los Angeles Gold Cup, and that pretty much hooked him for life.
He finds aerobatics to be the "ultimate personal challenge". The aerobatic pilot must "present the illusion of perfectly flown figures, perfectly placed in the aerobatic box to a panel of judges." The pilot must continually train to prepare a perfect flight under all weather conditions, under competitive pressure, and with high G-loads on his or her body. Norm finds this complicated combination unusually challenging. His goal is to improve to the level necessary to become a member of the United States Aerobatic team and compete under his countries banner at the world level.
Since Norm grew up in the midwest, visiting CNC has been like "coming home". I likes Chariton with it's buildings dating back to the 1800's. He found the people to be very friendly and welcoming. They wave at you in the car, they ask questions about the flying and it was "a pleasure to talk with several of the people who came out to the airport." Norm wanted to express his gratitude to the people of Chariton for "allowing us to fly and practice in their lovely town at a really first class facility", which he found to be a "most pleasant and amazing surprise".
Dick is a retired commercial airline pilot with a degree in Geology...(go figure). He lives in Lyon's, Colorado and is here for the training.
When I asked him where he grew up he said, "I'm a work in progress..." so evidently he HAS NOT grown up...!
He first got started flying aerobatics by becoming involved with the United States Aerobatic Foundation. Eventually he looked in Trade-A-Plane with the idea of buying an airplane he could use to go fishing. He saw a Pitts and bought that instead. He has continued to fly aerobatics because it's fun and because of the people in the aerobatic community.
Dick thought CNC was an excellent location for training. He found the people to be friendly, with good relations between the airport, the airport management and the local community, and he liked that there were few diversions.
Class Three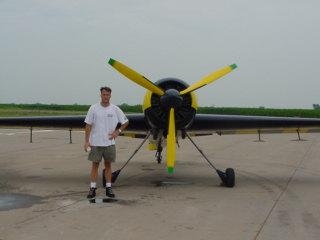 Bryan Jensen is the pilot flying the lovely Zebra striped Christen Eagle. Bryan is an Iowan now living in Prior Lake, Minnesota. He grew up in Atlantic.
His degree is in Aeronautical Studies and Geography and he is an airline pilot for Northwest.
Interestingly enough Bryan doesn't really know why or how he got started in aerobatics. It just sort of "seemed to happen over time". He finds the discipline very challenging though and he thinks it's fun. He also feels strongly that it "increases competency in regular flying".
Bryan thinks CNC is a good location for aerobatic training but he found Chariton to be a bit limited. Monday night the group had to go out of town for their evening meal, which they all found very frustrating.
Briggs Wood: flying the Sukhoi 31. Briggs is a SouthWestern guy all the way. He grew up in Yuma, Arizona and now lives in Alamo, California. His degree is in engineering from the University of Arizona and he is a retired industrial contracting executive.
Briggs got started in aerobatics by taking a course in basic acro with the goal of becoming a better and safer pilot. He was bitten by the bug though and has stayed with aerobatics and is now an Unlimited pilot. He says he continued with aerobatics because it's "competitive, challenging and fun!."
Briggs thinks CNC is a great facility for aerobatic training. He thinks Chariton is a good town and he has had a lot of fun in addition to all the work of the training camp.
2001 Training Camp
Jim Wells is the sole Pitts pilot at the present training camp. Jim is an engineer, but not exactly a typical one, he has a jolly sense of humor. I happen to know he really is from Pennsylvania, although on his bio he says Cloud Nine. He is uable to say where he grew up because he has not grown up yet!
Jim started learning to fly aerobatic when he learned to do spins in an Aeronca Champ. He has continued to fly aerobatics because he feels like learning to fly is a continuous process.
Jim suggests that "What Chariton really needs is a good 5-star resturant."
Yes, finding ANYPLACE to eat after 8pm on Sunday, Monday and Tuesday is a challenge guys...
Bob Freeman, another newcomer to CNC, is from Erie, Colorado. He grew up in St. Louis, Missouri. Bob is a mechanical design engineer who started flying aerobatics with his dad in a Citabria. He likes to fly aerobatics because it's fun and challenging and the people are a great bunch to both work and play with.
Bob says CNC "seems like a great facility so far." He is looking forward to taking full advantage of training with Nikolay.
Bob is on his way to Dennison, Texas for the United States Nationals in Denison, Texas. He hopes to win a place on the US Advanced Team and represent the US next summer in Slovenia.
ICAT wishes Bob luck in achieving his goal!
Hilton Tallman is a native of New York state. When he's working he is a general contractor but the rest of the time his patient wife "keeps" him...:)
Hilton also started flying aerobatics in a Citabria. He attended an aerobatic contest to see what all the fuss was about and decided to enter the next one in his area. Hilton is competitive and enjoys flying acro to both improve his overall flying skills and to "be the best".
Hilton has a slightly warped sense of humor. He thinks CNC is pretty FLAT, but it's a good place to fly and was kind enough to comment that "a cute chick runs the place." Thanks Hilty!
Training Schedule
August schedule is:
The supervisor Sue Kaster, former Chariton FBO, watching the latest training camp. She tells me this is really hard work. I am not sure about this statement.
Links:
Last updated 08/03/2004